Dog training can be a daunting task, with dogs being what they are – animals.
Untrained dogs can be unpredictable and difficult.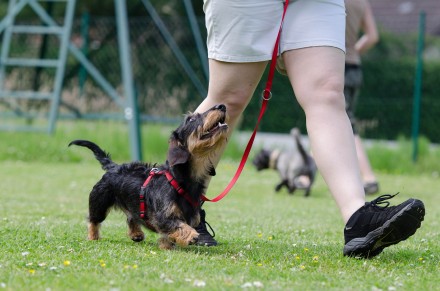 For the sake of safety, your dog needs at least some level of training.
For someone who is inexperienced or themselves untrained, it can be a big challenge to train a new pooch. A naughty dog can be a dangerous thing; what begins as aggression or nerves can turn into a much bigger problem. To prevent this, every owner should put some effort and take the time to train your dog. The benefits of training a dog include having more control over your dog, a better behaved dog, one who respects you and will listen to you. It's also a fantastic bonding experience which will enhance your lives together.
Test the water
If it's a class you're interested in, we recommend that you simply watch the class alone without your dog before getting involved, so you can be prepared with what is to come. You should also look out for relaxed and happy dogs, that no punitive methods are in use, no unnecessary noise like excessive barking and shouting, approachable instructors, a reasonable class size with appropriate number of instructions.
Dog training is a complex thing with lots of various methods, schools of thought and traditions which have evolved and transformed over the years. Before you commit to a training programme or regime you should sample the class and trainer so you can fully get an idea of how the instructor works and if it's the right one.

Selecting the right trainer is a vital part of this process and an incredibly important decision.
For too many trainers use modern gimmicks, rely too heavily on treats, or even cruel and inhumane methods for control of dominance of the dog. This is entirely wrong, a dog-human relationship should be built on trust, mutual understanding and respect.
Before selecting your dog trainer, centre or school you should do some research into the exact methods that they use, if possible you should speak to them one on one and properly discuss your dog's needs and what they would do in response.
Use the internet to find them
Check the trainer's website for reviews and responses and you will have a good idea of how the trainer operates, along with customer satisfaction you are surely to get an insight on how the experience might play out for you.
Check our directory of dog trainers now, and use the information we've provided you with here to identify the best dog trainer for you.